PAGODA SUN PARASOL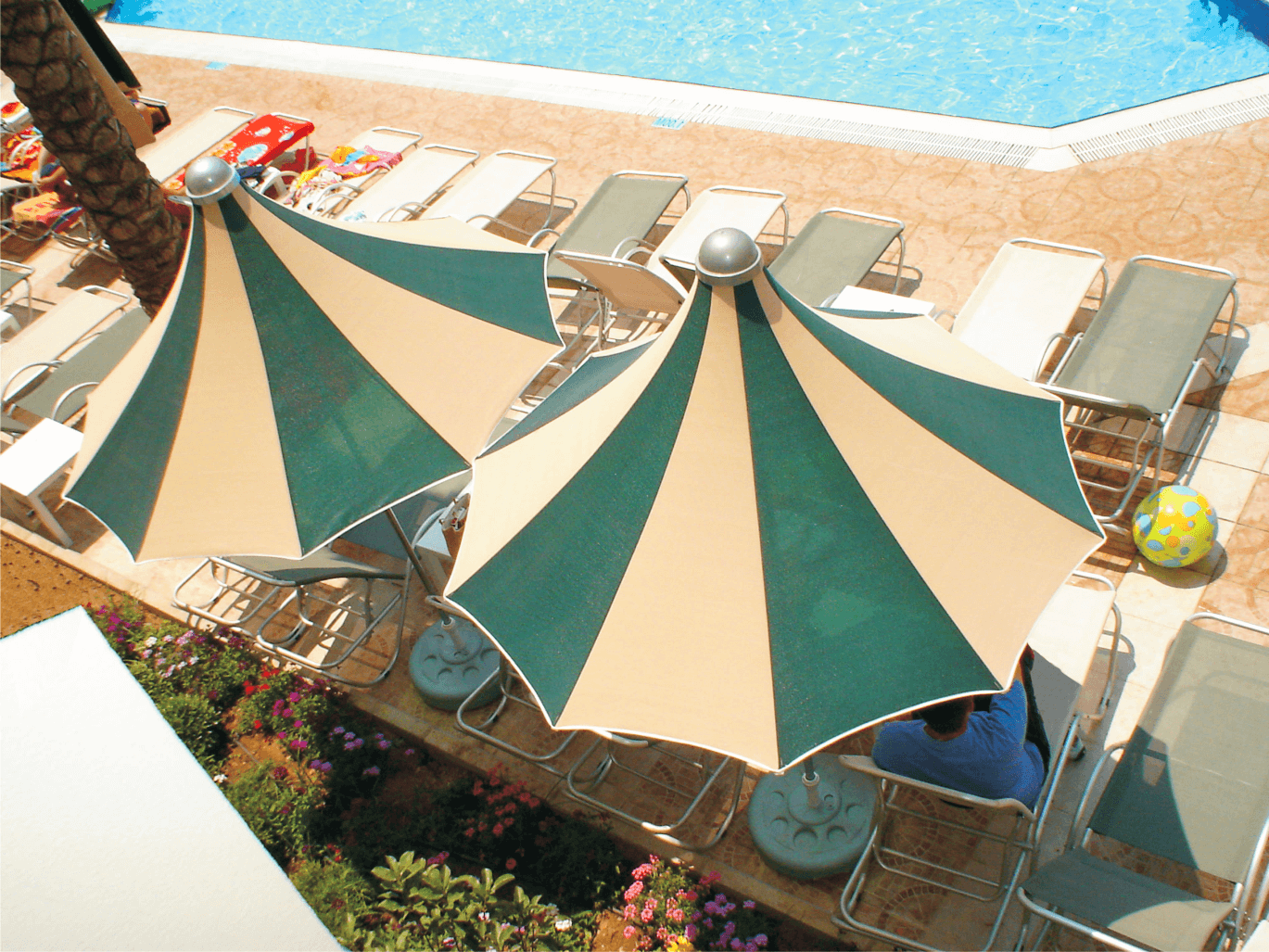 Would you like to feel the breeze of the Mediterranean
or
to create the striking style of China
in your business
, in your home? Here is our pagoda model. This model, which will decorate your pool edges with its very pleasant and attractive appearance, will be a good option to create an airy and comfortable space for your outdoor places. Our product, which you can design according to your preferences and your business, your terrace, your pool edge, has a square model with dimensions of 300x300 - 400x400 and 500x500 cm in addition to its round pattern from 200cm diameter to 500cm diameter.
In addition, the pagoda umbrella model can be produced with stripes in the models used on the beach, which have the option of having different colors or all the same color.
Our pagoda umbrella model with water and heat proof Spanish acrylic fabric, which will create a very nice view in the cafes and restaurants as well as the terraces, gardens and beaches, will ensure the satisfaction of your customers. Thanks to this first-class fabric quality, our product which is quite useful and high quality will add a colorful look and a fresh air to the place where it is located and with its fun model, it will be able to attract the attention of every sector.
In a few days after your order, our product will be indispensable for your
pla
ces with its pleasant appearance as well as its highly durable structure and quality fabric
. All you need to do is to have one pagoda umbrella model which has different color and views with affordable prices by taking a look in this part of our website. Your businesses, pool edges, terraces and beaches certainly deserve such a pleasant and fun atmosphere. Each wing can be manufactured in a different color or all of the same color, and according to your projects, we can design specially for you to meet your every demand, including logo design and applications. Since these special design products are not always available in our stocks, they cannot be shipped on the same day as the order, but you can be sure that their production and delivery will be take just a few days. The other umbrella models which are ready in our stocks can be given in the order day as we mentioned.

■

Conical high-ceilinged pagoda umbrella models are Chinese-inspired and have replaced the small-size beach umbrella which is preferred in the Mediterranean region, especially at the beaches.

■

The square models of the pagoda umbrella are 200x300 - 400x400 and 500x500cm while they can be produced from 200 cm diameter to 500 cm diameter for round models.

■The fabric which is used for

pagada umbrella is Spain origin Docril brand and it has been guaranteed for 10 years by the manufacturer against to discolor and corrosion.

■

Pagoda umbrellas can be multicolored or

each wing can be

colored

differently

on the umbrella

, T

herefore

it may

not

be

ready

in our

stock

.

■

The most preferred pagoda size on the beaches is our round pattern with a diameter of 300 cm. It can be produced as stripe with your requirement as well.