GARDEN FOUNTAIN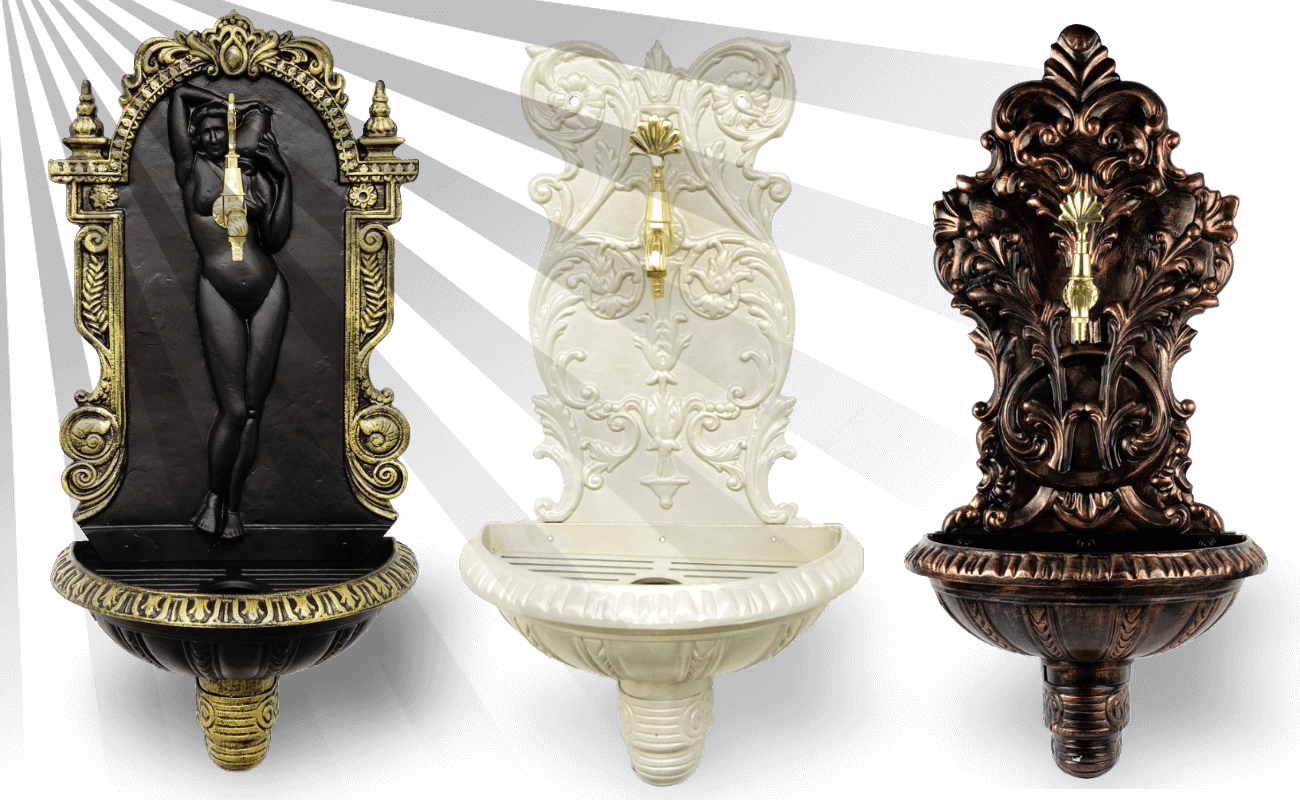 Every season, especially in the summer months, indispensable, your garden is a point of escape, Akbrella with a pleasant and aesthetic appearance is gaining.
In this part of our site, there are 40 fountain models with separate and pleasant decorative features under the title of cast fountain, pedestal fountain, decorative wall fountain and hayrat fountain. Our products, which have different options from one tap to four taps, are made of 100% brass material and have a durable, non-corrosive structure. Our fountain models, which you can easily use in your garden or you can mount on your wall, are produced with aluminum casting technique and painted with electrostatic powder paint and have a durable and quality structure. If we examine our cast garden umbrella models with all these advantageous features in subtitles:
Our casting fountain which is produced from 100% aluminum and no other mixture is produced by melting the bullion metals by pouring the appropriate product into the casting molds after being separated from the molded metal mold in the molds. After all these processes, our product is presented to our customers.
You can easily use in any area of ​​our footed fountain models with the weight and quality is one of the most durable models to survive.
The decorative wall umbrella model that you can use by mounting on your wall will appeal to your taste by adding a pleasant and aesthetic look to your gardens.
Our model of fountain fountain, which you will mostly see in city squares, is painted with electrostatic powder paint.
You can review all the models you will encounter on our site and you can have one of the most affordable price.
There are more than 40 models of cast iron fountains that you can use in your garden, we can produce cast iron fountain models according to your demand. We can paint all models of these decorative fountains with different color options according to your order.
The faucet which we use in the fountains which have different options from the single tap fountain to the 4-tap fountain is produced from 100% brass and it is stainless, it is not possible to rust due to the yellow rice raw material used. Our water fountains and water drainage are covered by our fountains on our site and you do not need to buy extra material when you buy.
The fountain models that you can use in the empty flat area of ​​your garden or your garden are produced with 100% aluminum casting technique unless special demand is provided. Long-term use is provided by fixing with electrostatic powder paint in heat-treated furnaces. Our products will not worry about the rustiness of aluminum. We will prepare your garden fountain models you will order in special color in a short time like 7 days or we will ship it to your desired address with cargo companies.

FOUNDRY FOUNTAIN
All model fountains by melting the ingots of metals by placing the appropriate product in the form of casting molds are realized by casting.
After separation from the molded metal mold in the molds, we carry out a number of processes to make the products smooth and after painting, we perform the painting process.
In the production of the cast fountain products that have been painted, water expenses, water inlets and faucets are carried out and packaging is carried out.
The aluminum we use during the production is made of 100% pure ingot and no other mixtures are added.

FOOT FOUNDATION FOUNTAIN
The metal casting fountains that you will use in the parks, gardens and road sides are produced in such a way that the screws that can be fixed to the place suitable for use on the flat floor can be attached to the dowels.
In our decorative footed fountain models, water expenses are found in the water drainage sections of our models as well as water inlets.
If you wish more than 10 orders, you can order products from PIK CAST, usually there is no change in pr

DECORATIVE WALL FOUNTAIN
You can use these fountains which are suitable for your natural structure with the decorative appearance of our aluminum casting fountains to be mounted on the wall, a water drainage will be required in our fountains where you will mount the wall.
We have dozens of different kinds of wall fountains in different sizes and sizes, we can also order this product in color according to your request 5-7 days