OUTDOOR WASTE BIN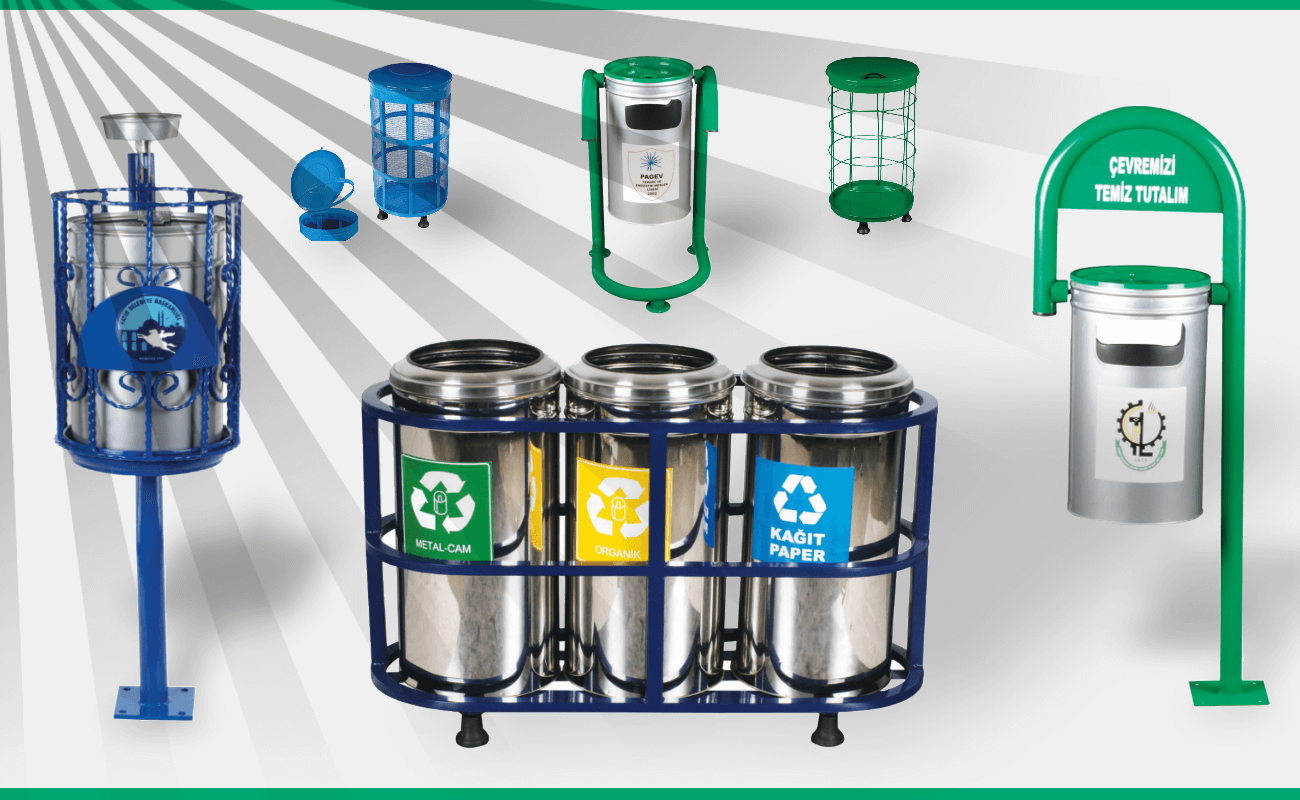 The place where we are is hygienic and also has a nice appearance is of great importance for all of us. Our office, where we spend a great part of the day, we continue our lives, our day, to relax the day, we go to sip our coffee businesses, gardens, terraces and many other places we can not count ... Here at Akbrella we can safely use these places we introduce our metal garbage cans. In this part of our site, metal trash bins, which can be fixed with dowels in the round form, under the direction of Akbrella, garbage cans models with parked metal profile feet with kangaroo feet, garbage cans made of rusted sheet placed in the bucket from the top close part, as well as garbage cans placed by the municipalities in the parks and roadside. You will also have access to all types of buckets.
Our products have a pleasant and decorative appearance as well as the external appearance of the electrostatic powder oven paint with stainless and abrasion resistant, with the foot pedal, opening and closing products, products with a narrowed cylindrical shape and collapsible models as far as possible to minimize contact hygienic, In addition to their daily usage, our products which are environmentally friendly with their models such as recycled and battery waste will be with you whenever you need. The nostalgic, metal look aesthetically pleasing and colorful look of our modern trash bin models are the most appropriate and attractive prices that you may encounter. You will have the most appropriate model for your space by examining our site ... Hygiene will always be with you.
Metal trash cans that can be fixed with dowels in round form where you can use in outdoor places, garbage cans models with parked metal profile feet with kangaroo feet, garbage cans made of rusted sheet placed in bucket from top to bottom are used for all kinds of garbage cans with logos placed in municipal parks and roadside. You can follow up our products in the area and learn about the products.
It is important that you prefer quality products, as the external waste collection units that are produced from aluminum casting and stainless sheet are very important in terms of the hygiene of your environment and it is highly risky for your health. We keep the external area garbage units carefully followed in every phase of production and we test the finished products for quality.
Our products which are chromated are stainless and we use electrostatic powder oven paint in colored products, in this case they provide healthy, hygienic and long life of the products.

INTERIOR, WASTE BIN
The garbage cans used in the interior areas are generally made of chrome-plated stainless metal plates, the products of the swing-flap products that open and close with the foot pedal are a part of our collapsed cylindrical and folding trash can models. Depending on your needs and the size of the place to be used, you will probably find here.
In the technical detail part of our products, you can obtain information about product dimensions, and you can choose the desired size of the interior trash can model from the product options module from the product page.
RECYCLING WASTE BIN
Painted and chrome-plated cylinders, each of the rectangular form painted in different colors or marked with different labels can choose one of our recycling trash can models on the product page, you can make online purchases.
It is possible to produce the recycling garbage units in this area in accordance with your demand in the wholesale order and in the size appropriate to your project. In case of order, your products will be produced within 7-10 days and the logo signs will be adapted and delivered in product packages.
BATTERY WASTE BOX
We write the product contents in white text on our battery waste trash cans that we produce in orange color, our battery waste trash units are locked under the products and the lid is opened without touching the battery waste and the waste batteries are separated from the garbage bin by the gravity.
You can fix our battery waste bucket model to a wall or fixed pole, and consider using it in parks, gardens and site areas.
In your bulk order, we can produce battery waste trash can according to your project with special dimensions, cylindrical, rectangular or conical shape.

WASTE CONTAINER
We have a variety of garbage containers in different colors depending on your requirements. There are more portable trash cans used by long-sized rectangular street cleaners, plastic trash container models with wide transverse wide 770 Liters.